Bones
X431 CR3001 Car Full OBD2 /EOBD Code Reader Scanner Automotive Professional OBDII Diagnostic Tools Free Update pk ELM327
X431 CR3001 OBD2 Scanner Professional Mechanic OBDII Diagnostic Code Reader Tool for Check Engine Light, Free Update Online...

We provide free online upgrade for LAUNCH CR3001
LAUNCH CR3001 OBD2 Scanner
LAUNCH CR3001 obd2 code scanner can read and erase codes which can also retrieve a wealth of information from the Engine Control Unit (ECU). The ECU is what triggers the Check Engine Light when there is a problem with your car. Parts might cause your check engine light on include:

#1. Gas Cap #2. Oxygen Sensor #3. Air Fuel Ratio Sensor #4. Mass Air Flow Sensor #5. Ignition Coils #6. Spark Plug Wires #7. Spark Plugs #8. Thermostat #9. EGR Valve #10. Evaporatative Emission Canister Purge Valve(EVAP) #11. Catalytic Converter.

LAUNCH CR3001 obdii code reader will read codes indicating these fault parts. After the car problems have been solved, LAUNCH CR3001 car code reader can erase these trouble codes and turn off check engine light.
Why Choose LAUNCH CR3001 Scanner for your car?
As everybody who has cars knows, people always spend hundreds of even thousands of dollars on their vehicles just because the engine light was on. However, Most of them don't know that they can use very little money - using LAUNCH CR3001 obdii code scanner. This code reader could resolve most reasons which caused engine light on, and tell you what's wrong with your car engine, and if it is necessary to be sent to workshop. Altogether, the LAUNCH CR3001 car diagnostic scan tool would save you much time and money. It is also a great choice if you are looking for an obd scanner well-built, easy-use with wide vehicle coverage.
Full OBDII/EOBD Service Modes
LAUNCH CR3001 OBD2 universal check engine light tool is made to easily read and erase engine codes. It is an enhanced OBD II and EOBD scanner that covers all obd2 protocols services, therefore it will work with virtually any vehicle equipped with obd2

Product Feature :

1. Read and erase fault codes
Read DTCs (Diagnostic Trouble Codes) to locate the issues,Clear DTCs to turn off the Check Engine Light after certain repairs

2. Live Data Viewing
Live data are displayed in a time-based chart to help customers to better analyze the abnormal parameter.This function will let you see engine performance information, if there are any trouble codes or issues with your engine or ECU.

3. Freeze Frame
Check the certain vehicle conditions which are recorded by the on-board computer at the time the emission-related fault occurs. It intended to provide you with a guide as to where a fault might be occurring within a vehicle.

4. I/M Readiness Status
Shows whether the various emissions-related systems on the vehicle are operating properly and are ready for inspection and maintenance testing.

5. O2 Sensor Test
Allows retrieval and viewing of O2 sensor monitor test results for the most recently performed tests from the vehicle's on-board computer.

6. On-Board Monitor Test
etrieves and displays test results for emission-related powertrain components and systems. Which is a way to find out if the engine has any misfire or compression problems on a particular cylinder, or other data that might indicate a problem but isn't severe enough to trigger a check engine light.

7. Read Vehicle Information
Display the information such as VIN (Vehicle Identification Number), CID (Calibration ID) and CVN (Calibration verification number), etc.

8. Component Test
Certain vehicle components can be actuated by commands sent from the scanner to test their operability
.....
Multi-Language supported
The CR3001 operating system can quickly be changed into English, French, Russian, Spanish, German, Italian and Portuguese.
Support vehicle
1.American Car list:
Need standard obd2 and release year from 1996-now
Chrysler, Ford, GM, Jeep, Lincoln, Buick, Cadillac, Chevrolet, Dodge, HM, ect...

2.European car list:
Need standard obd2 and release year from 2000-now
Mercedes Benz, Smart, Sprinter, BMW, Volkswagen, Skoda, Audi, Opel, Lamborghini, Porsche, Maybach, Ford, Land Rover, Jaguar, Aston Martin, Bentley, Rolls-Royce, Rover, Mini, Vauxhall, DR, Ferrari, Fiat, Abarth, Lancia, Alfa Romeo, Maserati, Bugatti, Peugeot, Citroen, Renault, Saab, Volvo, GM, GMSA, Dacia ,Seat, ect ...

4. Japanese / Korean car list:
Need standard obd2 and release year from 2008-now
Honda, Acura, Toyota, Scion, Lexus, Mazda, Nissan, Infiniti, Isuzu, Daihatsu, Suzuki, Mitsubishi, Subaru, Samsung, Daewoo, Hyundai , Kia, ect ...

5. Chinese car list:
Need standard obd2 , and release year from 2014 -now
Great Wall, Huachen, Geely, DF Honda ,Lifan, ect ...
Warning Notice
1.Even though it compatible with most cars, but different regions support the vehicle OBD2 protocol at different times, or some car is special design, so it may not compatible with some cars which do not support OBD2 protocol. Especially Japanese and Korean car brand.

2.Not Support Russian Cars before 2012, VAZ,UAZ,LADA ; Not works with 24V trucks
for Renault, SsangYong, please contact us before purchasing.

How to use CR3001 to Diagnostic your car?
Please turn on car engine----Plug into Car----Open cr3001 manual to do diagnose .
Launch CR3001 software could update free lifetime via PC
We have video to teach you how to update software, if anything wrong, please contact seller first, we would prolong your protection days,and solve your problem. thanks
LAUNCH CR3001 Packing List
1 x Launch CR3001
1 X USB cable
1 X User Maunal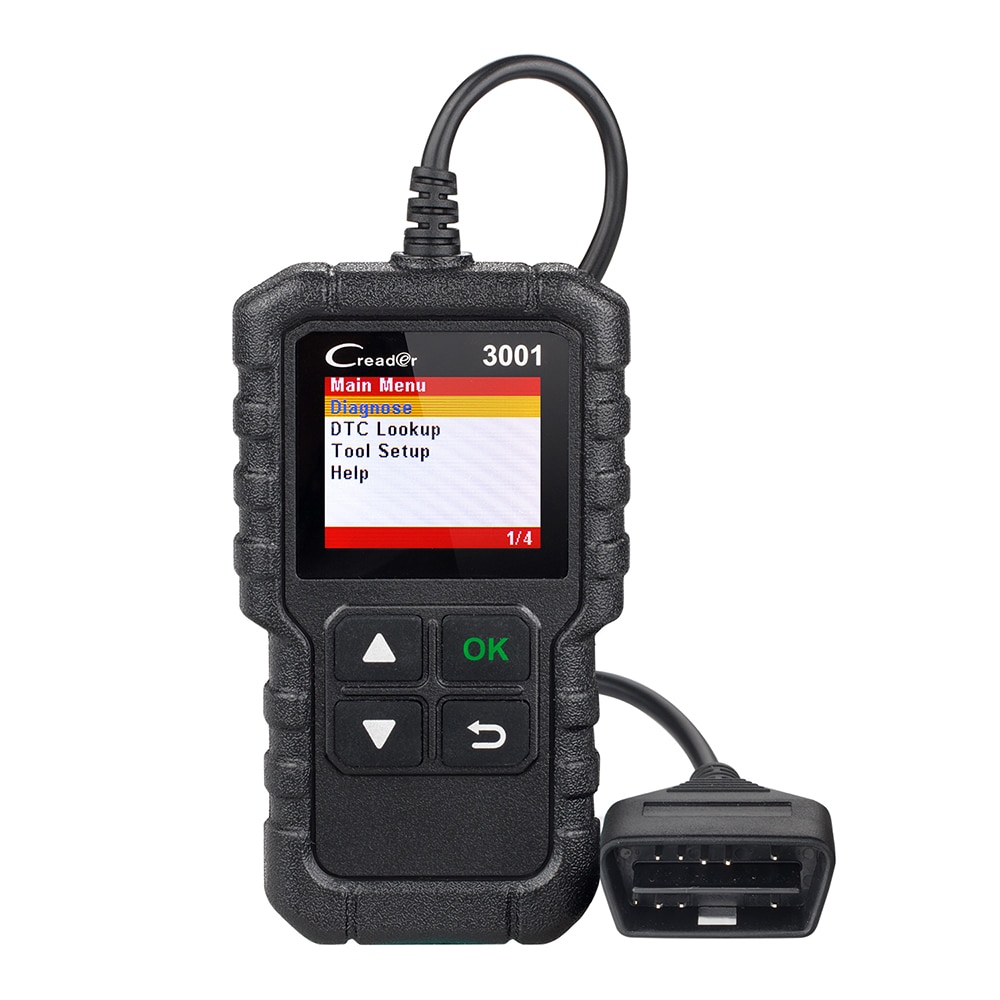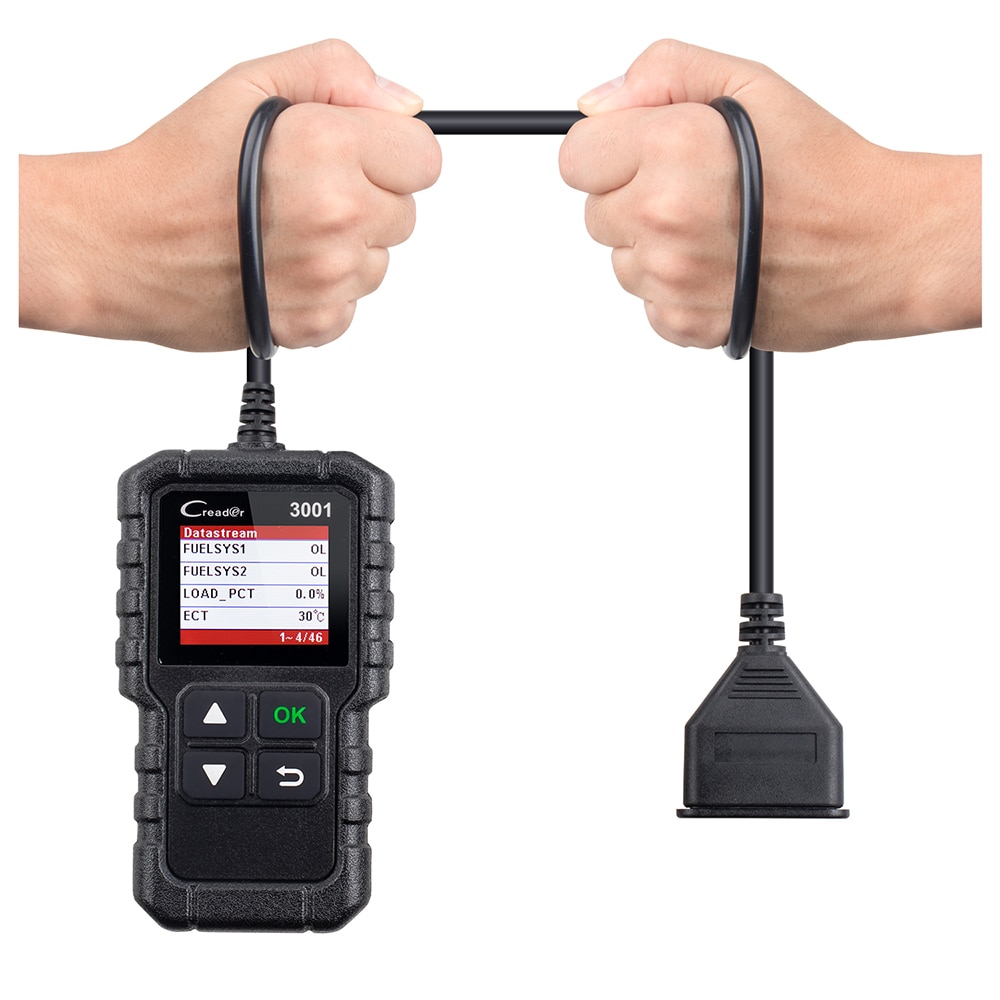 Brand Name:

LAUNCH
Certification:

CE
Origin:

CN(Origin)
Software Version:

2021 version
Language:

French
Language:

Portuguese
Language:

Russian
Language:

Spanish
Language:

Italian
Language:

German
Language:

english
Software Update:

Yes
Hardware Version:

2021 version
Item Type:

Code Readers & Scan Tools
Item name:

LAUNCH CR3001
CR3001 support protocols:

OBD2 protocol , EOBD protocol
CR3001 Support System:

Engine System
CR3001 Support vehicle:

Work for 12V Gasoline car and 12V Diesel Car, (can not work for 24V truck)
U.S. car support list:

From 1996 year - now
European car support list:

From 2003 year - now
Japanese car support list:

From 2008 year - now
Chinese car support list:

From 2014 year - now
LAUNCH CR3001 function 1:

Read Code
LAUNCH CR3001 function 2:

Erase Codes
LAUNCH CR3001 function 3:

I/M Readiness
LAUNCH CR3001 function 4:

Read Live Data
LAUNCH CR3001 function 5:

Read Freeze Frame
LAUNCH CR3001 function 6:

O2 Sensor Test
LAUNCH CR3001 function 7:

On-Board Monitor Test
LAUNCH CR3001 function 8:

Read Vehicle Information (VIN, CIN, and CVN)
LAUNCH CR3001 function 9:

EVAP System (Mode 8)
LAUNCH CR3001 function 10:

Read permanent fault code
LAUNCH CR3001 Update Method:

free update via official website
LAUNCH CR3001 Warranty:

1 Year warranty

Your cart is currently empty.